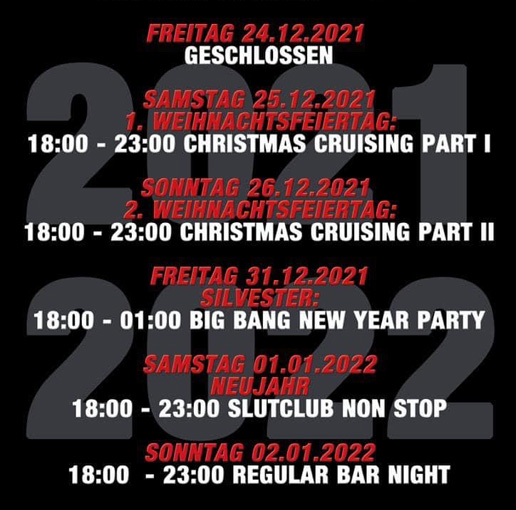 Corona Update 3. September 2021 Corona Breakup
Kurz und knapp, 

Wir kehren dank der neuen Regelung wieder zu unseren Wurzeln zurück und verkünden somit voller Stolz unsere alten Öffnungszeiten und Themen!

Über die Spielregeln und Bedingungen haben wir eingehend geschrieben und sind ohne Ausnahmen so einzuhalten!
Danke und viel Spaß Euch und auch Uns, 

In freudiger Erwartung, 
Das gesamte Team SLUT Club
Corona Update June 23, 2021 BACK TO LIFE
Short and sweet, 

We return to our roots thanks to the new regulation and thus proudly announce our old opening hours and themes!

About the rules and conditions we have written in detail and are to be observed without exceptions so!
Thank you and have fun to you and also to us, 

In joyful expectation, 
The entire team SLUT Club