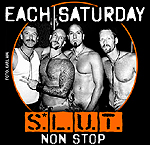 22.00–5.00
The regular Saturday Nighter for all kinds of fetish gear and interests.
A guarantee for full house and loads of fun and excitement, full access to all areas and a strict door policy provides a night full of horny man and new friends. Pushing music and horny atmosphere makes SLUT CLUB to "The Place To Be" that night.
Door open from 10 pm until open end and continues by Early Hour Club starting from 5am.
Strict dresscode